Securely store your payment information for quick access or enroll in auto-pay and have overdue invoices be a thing of the past.
1. Navigate to your user profile by clicking on your initials in the top right-hand corner of the application.

2. Select "Billing" from the menu.

3. If you've previously saved your card information, you only need to check the box for "Automatically charge my card for any unpaid fees".

4. Otherwise, you'll need to enter your credit card information and select the checkbox for auto pay.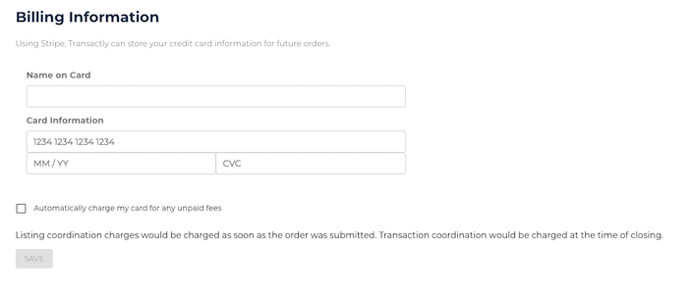 If you choose just to Save your information without selecting auto pay, your card information will be saved next time you sign in to pay a fee.
Questions about updating your payment information?

Contact Support@transactly.com or chat us in the bottom right.