Sharing a document with the other party once under contract.
Currently, documents you upload are either automatically shared with the other party, if part of an offer, counter, or contract, or they are uploaded only for your party until shared.
1. Identify a document that you want to share.
Documents already shared with the other party will be marked with a shared icon.

2. Select 'Share' from the document menu.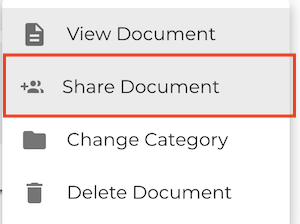 Your document has now been successfully shared. You should now see the Shared icon.
Questions about sharing documents?

Reach out to us at Support@transactly.com or chat us in the bottom right