Welcome! Becoming a new user is easy as 1-2-3
Choose your preferred login method as either Facebook or by using your email address.
Clicking 'Login with Facebook' will connect your Facebook name and email address with your Transactly account without having to confirm your email.
A message will appear with "Continue as [your name]"
---
If you choose to sign up with your email instead, enter the information in the fields provided.
First Name
Last Name
Email
Phone Number (optional)
Choose if you would like to receive your verification code via email or text
Enter the code
---
2. Create a password.
If your password does not pass the requirements, then you will not be able to continue until corrected.
3. Membership Summary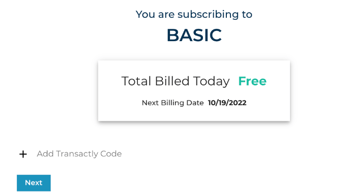 If you have a Transactly Code, enter it here
Review your chosen membership
Enter billing information (if applicable)
You're all set!
Welcome to your Transactly Dashboard where the real fun begins
NOTE: If you've chosen to text verify- when you reach your dashboard, a banner will appear to verify your email. This is to ensure you receive important notifications. Simply select the blue Verify Now button.
Questions about creating a new account?
Contact Support@transactly.com or chat us in the bottom right.